Rosemary Benson is an Audible #1 Best-selling narrator
Audie Award Nomination Original Work: Nevertheless We Persisted #metoo                         
SOVAS Award 2019: Nevertheless We Persisted #metoo
Professional home studio in New Jersey
Fiction: historical / contemporary / literary / cozy mystery / fantasy / cozy romance
Nonfiction: memoir / self-help / academic
Languages: French and Italian (some conversational ability); Accents: French, Italian, several British, Irish, Scottish, some Spanish, Eastern European, German, Russian, others with preparation.
American dialects: some NYC regional; Philadelphia; Midwestern; Coastal Southern; Alabama; Texas; Boston
Rosemary is a professional singer with years of experience in live performance, improvisation, and teaching. Her interests include travel, music, art, volunteer work, differentiating instruction, and learning anything.
She has recorded for Audible, Beacon Press, Bloomsbury Press, Brilliance, Gildan Media, HarperAudio, HighBridge, McGraw-Hill, Penguin Random House, Recorded Books, Tantor Media, Vibrance, and others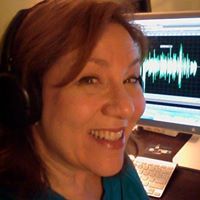 LEVON: FROM DOWN IN THE DELTA TO THE BIRTH OF THE BAND AND BEYOND
by Sandra B. Tooze | Read by Rosemary Benson | HighBridge Audio
"Narrator Rosemary Benson creates the voices of the major and minor figures in this biography of Levon Helm, drummer for The Band. She delivers a convincing voicing of Helm's soft Arkansas dialect and even mimics incidental characters such as saxophonist Bobby Keys and folk singer Happy Traum..." (read more) - AudioFile Magazine
MOCKINGBIRD SONGS: MY FRIENDSHIP WITH HARPER LEE
By Wayne Flynt | Read by Rosemary Benson, Mike Ortego
Harper Audio
"Harper Lee stands as one of the twentieth century's most beloved authors with her enduring classic, TO KILL A MOCKINGBIRD. Here, her longtime friend Wayne Flint shares his perspective on Lee through their thirty-year correspondence. What makes this listening experience special are the performances of the two narrators... Benson, in particular, seems perfectly chosen to represent Lee; her melodic voice has a hint of Southern charm." (read more)   - AudioFile
AN IMPROBABLE PAIRING
By Gary Dickson | Read by Rosemary Benson
Greenleaf Book Group
"Benson's elegant yet honest narration adds extravagance and realism to this novel's aristocratic setting. She provides a suitable tone for a lavish romance and will easily transport listeners to a period of European refinement." - AudioFile
PUBLISHING: A WRITER'S MEMOIR
By Gail Godwin | Read by Rosemary Benson
Audible Studios
"If you're a fan of Gail Godwin's novels and are specifically interested in the details of their composition, agenting, editing, and promotion, this audiobook will satisfy you fully. Rosemary Benson delivers an expert and simpatico reading..." (read more)  - AudioFile
Audiobooks

Hear samples of my latest narrations at Audible.
Or
Click the titles to hear more samples of my work: